NuVoBebe

are pleased to bring you

FittaMamma

~ Celebrate and support your changing shape whilst staying fit and healthy.
FittaMamma

 offers a unique range of maternity wear designed to provide support for your bump. Aimed primarily at women who choose to stay active during pregnancy the range is so comfortable and stylish that it becomes a 'must-have' for everyday and leisurewear as well as for exercise.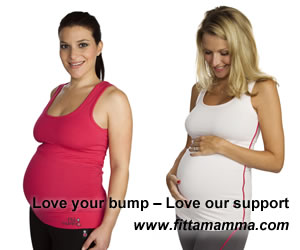 Their High Support Top works like a sports bra for your bump, holding it secure so you feel comfortable enjoying higher impact activities such as running or working out at home or in the gym. The top has a unique back panel that helps take the weight of your bump onto the back and shoulders where you are naturally stronger and a firm waist band that sits below the bump providing additional support. An added benefit of the High Support Top is the support and comfort it provides for women suffering from back ache or pelvic girdle pain as it helps to ease the weight of the growing baby. Available in jet black, deep raspberry or dove grey, the top costs £49.99.
FittaMamma is a useful and informative resource for pregnant women with hints and tips about exercise, yoga and nutrition so sales of the clothes are supported by a positive brand identity for pregnant women with an inclusive community that provides support and advice.
FittaMamma was conceived to support active mums-to-be. They have created a range of Maternity Active Wear clothes to support your bump and an active space where mums-to-be can find resources, information, inspiration and discussion.
They believe a healthy active pregnancy is good for you.....and good for your baby. They have created an environment where you can find information about how to exercise, when to exercise and what to wear whilst you exercise.
FittaMamma are passionate about eating well – but know that sometimes, especially when you're pregnant, you just don't fancy what's 'good' for you. Their open friendly resource offers easy hints, tips and recipes about eating for two – helping you to stay fit, eat healthy and encourage your baby to grow strong and healthy too.
Sometimes you just need to chat.

FittaMamma

encourages active mums-to-be to exchange views and information through our forum. And when you need some advice you can ask their experts in health, nutrition, exercise and well-being.
Look good, feel good. The

FittaMamma

Maternity Active Wear clothing range is designed to work throughout your pregnancy and after your baby is born. It supports, fits, stretches and looks fantastic!
NuVo Bebe have loved lookin throuh this site and look forward to trying one of the High Support Tops very soon.